In the world of Forex trading and every other financial market, there are a lot of products out there for you to choose from. If you take a step back and think about it from a business point of view, this makes a lot of sense. People involved in the trading field tend to have money. Businesses want to make money, so they produce services and products for traders to buy.
If a product is going to be helpful to you, it is often worth paying to use. But not all items are going to be helpful. In fact, because there is money in this sector, many useless or even scam products exist. Knowing how to sift through these and focus on just the ones that will be beneficial to you is important. You have worked hard to get into the Forex market, and now it's time to put that money to use.
We've already looked at the main product that you will use—your broker. Now it's time to look at the other tools that will help you to become a more successful Forex trader.
Signals
Signals services act in a variety of different ways, but the common theme is that you will be sent an alert of some sort to know that a trading opportunity exists or may surface in the near future. The signal can be sent by email, text, or it might even be sent directly to your trading platform. There are many free trading signals services out there, but just because something is free doesn't mean that it's worth using.
Also, many brokers now have signals services of their own. These are not always helpful, especially because the broker has an interest in you executing trades. Although they might be helpful, for the most part these services offered by the broker should be avoided because of the conflict of interest involved.
The thing about signals, or any trading product, really, is that free or cheap does not equal helpful. This is your money that's on the line, and if the product you use isn't helping, it is losing you money. Even a free signals service can hurt you in this regard. Doing your own research, and looking at the guidance that trusted sources provide, will help to steer you away from the products that will lose you money, and toward the products that give you the best chance of earning it.
Robots
A trading robot is a piece of software that you can use to help make trades for you. They are often called expert advisors, depending on where you download them from. Robots can be a great blessing for your trading. They can take some of the research pressure off of you so that you can devote your energy to other activities. However, part of using a robot correctly is to choose one that will work for you, not against you. This requires a good deal of research and monitoring on your part—and a robot that works well for some might not work well for others.
Here, you will find our Forex robot reviews, along with what factors to look at when making your decision. We might not be able to tell you which robot will be ideal for you, but we can certainly give you the criteria that you need to make that decision for yourself.
Trading robots are especially popular in the world of Forex trading, mainly because of the huge amount of influence that MetaTrader has had on the trading community. MT4 creates a trading platform that is compatible with most any broker, and thanks to that, robots that are set up through MT4 can execute trades for you, either based on parameters that you set, or those that your robot sets up. This is why we highly recommend this product. It's free to use, and opens the door to so many other trading opportunities for you.
So, if you're looking for a robot, we have the resources you need to make a more informed decision. You can go through and research everything yourself, and that can be a very worthwhile activity. But, starting out with the research that others have done, such as what you'll find in this section, and then going out from there to figure out what works for you and what doesn't, will help.
Classes
With so much free information out there on the web, taking a class might seem like a waste of time. But that's so far from the truth. In fact, because of the in-depth nature that many classes offer, these have a lot of potential to help even the most experienced of traders to learn a few new things.
Some courses are free and open to all that want to take them. Some have a price associated with them. Some of them are brief and can be completed in a few minutes, while others can take days or weeks to work completely through. What you use will depend on what your needs as a trader are.
It's also worth remembering that classes come in a wide variety of types. Some might just be a simple YouTube video, while others may be more detailed and include tests, responses, and more. Again, what you use is up to you.
Conclusion
Your time and your money are valuable. Our goal is to help you sort out what will help you, and what's a waste. This page is intended to provide a brief overview of what's out there and help you to make a more educated decision on whether it can help you as a trader or not. These products will not be for everyone, but there might be one or here that can help you to elevate your trading to the next level. Or, they might spark an idea that you can apply to your own trading.
By teaching you to be discerning and to know how to critique and evaluate a product on your own, we can help you make more informed decisions across the board.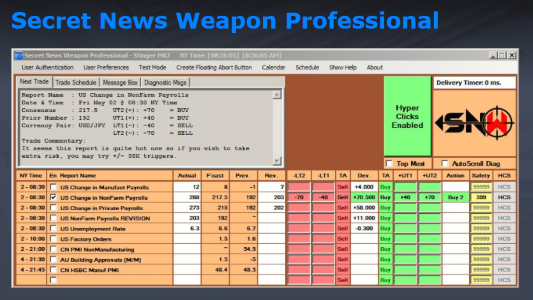 Fast Economic News (www.fasteconomicnews.com) is more than a site devoted to getting you the most up to date information regarding financial markets. When you are trading, you want the most relevant and important news as quickly as possible. Not only will...