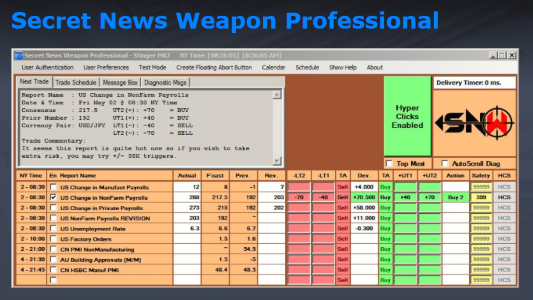 Fast Economic News (www.fasteconomicnews.com) is more than a site devoted to getting you the most up to date information regarding financial markets. When you are trading, you want the most relevant and important news as quickly as possible. Not only will this allow you to make informed trading decisions, you will have a more solid timeframe of when trades should take place and in what direction they should be going. Also known as sentiment trading, this has proven to be a powerful trading strategy, regardless of the trader's skill level.
Fast Economic News has different levels of service based upon their clients' needs. Their most basic package, "Just the News," will give you instantaneous access to news as it happens. This program targets professional traders who do not rely on news for making their trading decisions. At only $9.95 per month, it is hard to pass up an option like this one, especially if you do not require someone to interpret news data for you.

Other options include the "Secret New Weapon Lite," "Secret News Weapon Professional," and "Secret News Weapon Elite." These products vary in the way that news is acted upon. For example, the "Lite" option is designed to not overwhelm the newbie news trader while showing them the methodology that will turn them into a professional trader. The "Professional" option has news reports filed away that you can access with just the click of a button. You can also trade the news automatically with this option if you wish. The "Elite" version has everything the news trader could ever wish for. This delivers over 400 news reports per month and enables the fastest automatic trading that this site has to offer.
If you are looking for a new way to trade, this site might be just what you are looking for. News trading has grown immensely in popularity as people see how effective it really is. Don't let your chance to make more money in the market slip away.
***Your capital may be at risk. This material is not investment advice.***