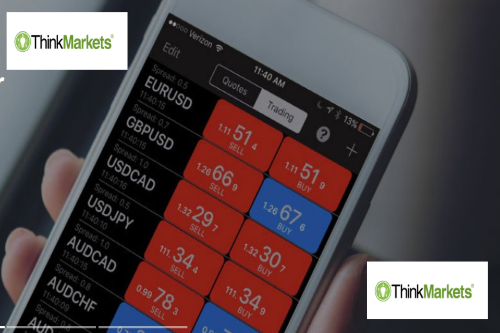 ThinkMarkets is a Forex broker based out of Australia. Founded in 2010, this broker has grown to also have offices located in the UK. They have a very strong product, but that doesn't mean that their services are right for everyone. Before you create an account with ThinkMarkets, be sure that you know the basics about the broker, what they have to offer, and how well that will fit in with your trading plan. Then, if they are still at the top of your list, create and fund an account. It's always best to have the facts right before you begin, and our goal is to help you get the information that you need to make a smart and informed decision when it comes to your money.
Ready to learn more about the brokerage services that ThinkMarkets offers? Keep reading.
Trading Details
ThinkMarkets has a number of different assets available for trading. These include all major currency pairs, many minor pairs, metals trading, CFDs, and spreads. You will also have access to a couple different commodities, including oil and natural gas.
The spread on your currency pairs will vary depending on what you choose to trade. Spreads start as low as 0.1 pips, but will vary throughout the course of the day and depending on the particular asset that you select. Be sure to comparison shop this broker along with others looking at just the specific assets that you will be using with frequency.
You can use MetaTrader 4 on all devices, including mobile, with ThinkMarkets. This comes with a huge amount of trading and analysis tools, including access to trading robots and other expert advisors. If you choose not to use MT4, you will still be able to use the tools and educational materials that the broker supplies. We recommend using MT4 simply because it gives you much more freedom in the financial markets. It's recognized as a universal platform, and will be helpful if you ever decide to switch brokers or want to use a tool that ThinkMarkets doesn't supply.
The maximum amount of leverage that you can use, regardless of the trading platform that you use, is 400:1. Just remember that high amounts of leverage are good for some traders, but not everyone. Increased leverage comes with increased risk, so keep this in mind when making this decision.
Are U.S. Clients Allowed?
No. ThinkMarkets does not accept traders from the United States. They also do not accept traders from Japan. This is due to local regulations that bind Australian based financial bodies. In order to help their local clientele to the fullest extent, ThinkMarkets must remain in compliance with this law. If you are located in an area that they service, you can be assured that they take great strides to maintain their good standing with the legal authorities.
How Can I Create an Account?
If you're thinking of creating an account with ThinkMarkets, get in touch with their customer service department first so that you can open up a demo trading account. This way, you can get a good feel for what their trading product is like and even gain some real time experience in a zero risk setting. You will be able to use this for several days before you will need to make a decision on whether you will be funding a real money account or not.
To create an account, you will need to supply some basic information, including your name, residence, and you will need to agree to the site standards. You'll also need to select a base currency. Once this step is finalized, you cannot change your currency. For most people, this step is pretty simple, but spend a moment to make sure that you choose what's best for you. You can choose from the AUD, CAD, EUR, USD, GBP, JPY, and the NZD.
Next, you will need to choose how you will fund your account. You can use a wire transfer, a credit card deposit, or a few different e-wallet selections like Global Connect, Skrill, Neteller, and PayPal. Each of these comes with a few different pros and cons, so take a moment to look over the details on their site. The method that you use to fund your account will be the method that you use to collect withdrawals, so take this into account when setting things up.
What Else Do I Need to Know?
ThinkMarkets is a fully regulated broker, but that doesn't mean that you don't need to be careful on your end. Always follow proper money management techniques. Trading is risky, and it's possible to lose your money. Be sure to trade smart, watch your leverage, and never trade beyond your means.
Also, as soon as you create your account, it's smart to send in your required paperwork for a withdrawal right away. You might not make a withdrawal from your account for several months, but this way you can have all of the steps checked off your list before you request a withdrawal. This will expedite the process, and let you know if there is anything you are overlooking before it becomes a pressing matter. We hope this Thinkmarkets review will give you what you need on making the right choice
***Your capital may be at risk. This material is not investment advice.***